Our Mission & Vision
What Is Masonry?
Masonry, also known as "Freemasonry," is the oldest and largest fraternal organization in the world. Its main purpose is to make good men better.
Masons are men of charity and good works, respected leaders of their communities. Many of our nations's founding fathers were Masons, including thirteen signers of the Constitution. Fourteen U.S. Presidents were brothers of the craft, beginning with George Washington. Over four-million Masons in the U.S., from diverse religious, professional, and political backgrounds, have built this fraternity on the cornerstones of friendship, compassion, and brotherly love.
​
Organization
Each Mason belongs to a local lodge, sometimes called a "Blue Lodge." The elected chairman of the local lodge is called the "Master of the Lodge." Local lodges are organized into state groups, known as "Grand Lodges."
The Blue Lodge confers three sequential degrees: the Entered Apprentice degree, the Fellowcraft degree, and the Master Mason degree.
There are many other Masonic bodies, such as the Scottish Rite, York Rite, the Shriners, Job's Daughters, DeMolay, Eastern Star. Some of these affiliated bodies confer degrees. For example, the Scottish Rite confers degrees 4 through 32, and an honorary 33rd degree for special service. Although these degrees are numerically greater than the 3rd degree conferred by the Blue Lodge, they are not superior degrees. As Brother Mitchell M. Waring wrote in the Scottish Rite Journal (January 2003):
"No degree is higher than a Master Mason…. They amplify the Masonic story, add to knowledge, and increase interest. But, as they cannot make more complete that which is already perfect, they cannot be considered 'higher' than the Master Mason Degree."
Our Mission
The Freemasons of South Dakota engage and inspire good men, who believe in a Supreme Being, to live according to Masonic tenets of Brotherly Love, Relief and Truth. Our mission is guided by the core values of our fraternity:
Freedom: Freemasons champion the liberties and values outlined in the founding documents of the United States of America.
Integrity: Freemasons strive to be honest, truthful and reliable, living in a just and upright manner.
Tolerance: Freemasons embrace diversity of opinion, religious, ethnic, cultural, social, and educational differences.
Masonic Symbols
One goal of Masonry is to make good men better men. To accomplish this, Masonry teaches morals and virtues through the use of symbols, metaphors, and allegories.
To newcomers, these symbols seem strange and even unsettling, but I assure you that they have no sinister purpose. For example, you have probably seen a single eye on Masonic decorations. This eye is intended to remind us that our Creator watches over us. It is a symbol, or metaphor, of God's omnipresence; it is not an image of God, nor is does it represent anything deeper than that. The use of this symbol is common in many cultures and many religions. In slightly different forms, it appears on the American dollar bill, in stained glass windows in many European churches, and in Latin American Christmas decorations.
This — with other symbols, metaphors, and allegories — is intended to make you a better man, reverent to your Creator, helpful to the Brotherhood of Man, and mindful of the virtues of temperance, fortitude, prudence and justice.
DeMolay

DeMolay in South Dakota…a Bright New Opportunity…for Your Young Men
This Masonic youth organization was founded in Kansas City, Missouri in 1919 by Brother Frank Land because he believed in using the teachings of Masonry to benefit the youth of his day. The organization grew until literally millions of young men were introduced to the concept that what our Fraternity could provide would be beneficial to young men in every community in America. While DeMolay started as a "club" for young men it has become an organization which channels the vigor and enthusiasm in every young man toward positive personal growth and understanding of self and others.
The structure of DeMolay is pretty simple. A Supreme Council exists to set governance of the DeMolay members and advisors. The Council is headed by a Grand Master elected to a one-year term. He is responsible for ensuring that each state within the DeMolay organization has a state leader known as the "State Executive Officer." The State Executive Officer serves at the will and pleasure of the Supreme Council, but usually for several years. Such structure allows for long-term planning and execution together with essential continuity for the young men and the various Chapters and leaders within a state. Each Chapter is sponsored by a Masonic organization within that city. Some are sponsored by the local Blue Lodge, others by a York Rite body or the Scottish Rite or Shrine.
How does one start a DeMolay Chapter? The Masons in a given town decide to start a "Chapter" of DeMolay. They identify their members, parents of young men who may desire to join (including moms) and ask the Executive Officer to provide a workshop for them. The purpose of the workshop is to identify the standards for adult advisors, help them to plan for a year of activities, learning, honors and awards for the boys. An essential part of the plan is the training for the adults and the young men regarding behavior, cultural social norms and the DeMolay Youth Protection program. During the early planning stages the players in a community will be encouraged to identify, at least for themselves, the elements of leadership and which one or ones each individual will lead. Before opening the doors to youth, the adults must know what the kids will find and that it is beneficial for young men. Before the first boy is invited to participate, a plan is in place.
In previous years it was necessary that the young men had to be at least eleven years of age. As anyone who has been in contact with kids these days will attest, the maturity level between age eleven and eighteen (high school graduation) is simply so diverse as to not be able to be charted. The interests of eleven year olds are vastly different from those of elder teens! Similarly, through the adult leadership which teaches mutual respect and appreciation, the high school seniors become incredible role models for the younger boys, literally lifting them to new heights of responsibility, caring, initiative and pride.
Today we believe that by age eleven too many young men have been "captured" and are held hostage by school activities, homework and undirected social activities. Whether that is true depends upon the adult leaders and parents. To argue that men of the Masonic fraternity are unable to influence the current generation in terms of providing a dynamic organization in which young men can grow and expand their horizons for personal endeavor is, to be very blunt, an admission by those men that they have chosen to give-up on making their community a better place for all its citizens.
As a further opportunity to develop a DeMolay program in a community, DeMolay International has developed a program specifically designed for young boys, say age 8 or 9. It is called Squires and South Dakota is working right now to open the first Squires group. While some ritual exists, that is far from the primary focus. Rather, Squires learn the beginnings of responsibility, interaction with other boys and adult leaders and how to develop leadership skills while focusing on academic achievement…all of which is encased in a fun and experiential program. It is perhaps the focus on success rather than failure in school that can set this program apart. Especially in an era when the schools are called upon to do more and more of the "raising" children, DeMolay Squires gives parents and guardians a big assist in helping boys to become more interested in academics and all the while providing a strong moral environment in which to learn.
New video electronics, Kingdom of DeMolay has helped to freshen the appeal to the youth of today and membership opens that door. Endeavors for charitable purposes, recognition of accomplishments within the organization, leadership workshops, opportunities to meet and work and learn with other DeMolay Brothers, athletic contests, courtesy and good etiquette continue to be traditional opportunities available to the Brothers of DeMolay. And, perhaps the best way to say it is…so much more limited only by the limitations of creative minds dedicated to making new opportunities for young men.
Jacques DeMolay, the last Grand Master of the fabled Knights Templar of the Crusades is the patron of all DeMolay Brothers. It is the allegory of the Templars as staunch defenders of Christian principles against the tyranny of the French King Philip and his accomplice, the Roman Catholic Pope that provides the basis for this modern day arena in which essential lessons of caring for and about others, excelling in "the arena of life," promoting respect for parents and the nation and encouraging success in school.
The ritual of DeMolay is similar to that of Masonry but not nearly as involved as in any of the Masonic Degrees. By use of the ritual, the DeMolay Chapter is able to provide some needed structure and, at least for many of the young men, a "hook" upon which they may attach their future growth and development.
Perhaps the absolute essential one must understand about DeMolay is the need for young adult Masons to care enough about the youngsters in their community that they are willing to make this program their contribution to the future. In a time when Masons are promoting their various charities, what DeMolay asks of our Masonic members is for our Brothers to donate their skills, talents and abilities to improving the lot for young men in their own home towns. It is not a monetary gift, it is the gift of caring enough about others to help build a better life for them.
If you wish to talk about DeMolay, contact the Executive Officer for South Dakota and arrange a time when you and he can meet, answer questions and perhaps start the process of bringing this program for boys to your town.
Job's Daughters

Job's Daughters International® is a leadership organization for girls between the ages of 10 and 20. Job's Daughters is located in five countries and in 31 states in the USA. The Daughters meet in groups called Bethels (much like individual Masonic Lodges). South Dakota has nine Bethels. They are located in Spearfish, Bell Fourche, Hot Springs, Rapid City, Pierre, Winner, Aberdeen and Sioux Falls. Sioux Falls has two Bethels.
Job's Daughters International is the only international organization for girls that requires its members to have a relationship to a Master Mason. While it is no part of the Masonic Fraternity, this prerequisite ties it closely to the Masonic Order.
In general, the Book of Job teaches us a Masonic optimistic lesson — not to fall in despair; it shows that Masonic ideas are imperishable. We see this exemplified in Job's life. Job saw the growth and upbuilding of his home. He also saw its ruin. but he beheld its revival and reconstruction.
Special emphasis is given to the thoughts that "To Be Fair Is to Do Good" and "Virtue Is a Quality Which Highly Adorns Woman."
Job's Daughters is operated in a democratic manner, similar to Masonic Lodges. Adult co-workers known as the Bethel Guardian Council (consisting of a Bethel Guardian, Associate Bethel Guardian, and others) supervise each Bethel and are appointed yearly — with special consideration given to recommendations from the members of the Bethel. Each Bethel is required to have at least one Master Mason as an executive member of its Bethel Guardian Council.
Job's Daughter's official charity is the Hearing Impaired Kids Endowment (HIKE) Fund. The purpose of HIKE is to provide hearing devices for children with hearing impairments between the ages of newborn and twenty years whose parents are unable to meet this special need financially. An estimate of 100 children are provided with hearing devices each year. In South Dakota, we raise thousands of dollars each year for HIKE and several South Dakota children have received hearing aids through our program.
Job's Daughters provides scholarship opportunities for our members. Our organization takes learning and development seriously and we reward our members with through scholarship at our annual meeting in May.
If you know of a girl between the ages of 10 and 20 who would like to be a member of South Dakota Job's Daughters,
York Rite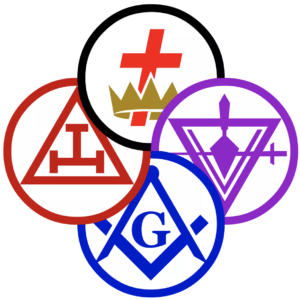 When many of us were new to the Masonic Fraternity we were frequently advised to seek "more light in Masonry." All too often the meaning or intention or significance of that well-worn phrase was never explained. Perhaps the Brothers intoning those words were not entirely sure of what they spoke.
Today Master Masons, young and veteran, are still granted the opportunity to gain "more light" and for many of us, the symbolism of that phrase is not as clear in meaning as it might have been to some Brothers many, many years ago. If we can mentally suspend our focus upon what we do not understand, and just allow the revelation of more information or at least more understandable information to wrap about us for a time, the value of more information will become clearer.
Imagine a time when the leaders and citizens of an ancient Jewish kingdom had so sinned that at a point in time, the Lord God of Heaven allowed his own people to be almost annihilated. Imagine a time when the Temple erected to God was absolutely destroyed by an angry foreign leader alleging absolute betrayal by the Jewish King Zedekiah. The invader killed every Jew he could in his wanton destruction of a nation. Those who were not murdered, were hauled away to Babylon as slaves.
Imagine learning about receiving pay as a craftsman. (Do you remember the Senior Warden's line in the Opening and Closing of a Lodge…"pay the craft their wages, if any be due"?) And learning about the facts of honorable and just behavior as a builder of the Temple of Solomon.
Imagine learning of a very secret vault beneath the Sanctum Sanctorum. And why was it built, by whom and for what purpose?
Imagine learning the "Lost Word" and, even more importantly, perhaps, why it was "lost."
What were the secrets of the actual structure of the Temple in Jerusalem? Did the Ancient Grand Masters anticipate the loss of the Grand Word, the destruction of the Temple, the dispersion of the Jewish people?
Now, back to the original issue. How does all of this bring you "more light"? How do you become more knowing? And what do you know more than you did before? Every York Rite Mason can tell you the answer. But the fact is, you must discover it for yourself if the "light" is to be of any real value.
Whether we talk just about the lessons of the Symbolic Lodge Degrees or grow into York Rite or Scottish Rite Degrees and lessons, you will receive the support or foundation upon which to dissect the teachings.
York Rite is divided into three organizations: Masons of the Royal Arch (Chapter); Royal and Select Masters (Council) and Knights Templar (Commandery). Chapter or Royal Arch Masonry consists of four un-numbered Degrees ending in the Royal Arch Mason Degree. Included in this Masonic Degree is an in-depth focus upon the duties and procedures which craftsmen followed during the construction of the Temple, a re-enactment celebration of the dedication of the completed Temple of Solomon, and finally, the return of the Jews from Babylonian captivity to begin re-building the Temple and the City of Jerusalem.
The Council Degrees, there are only two, re-traces the actions of the three Grand Masters during the construction phase of the original Temple and the preparation for the preservation of Masonry.
Finally, the Christian Degree of Masonry, Knights Templar which is conferred in three parts or Orders: Knight of the Red Cross, Knight of Malta and Order of the Temple. In this portion of the York Rite, Brothers become Sir Knights and learn about the ancient Crusades, the structure of the organizations which attempted to protect pilgrims traveling to the Holy Land in the 14th Century.
York Rite Masonry continues a legend begun in the Blue Lodge, embellishes it with history, Masonic tradition and teachings which further enhance the quality of an individual. To participate, one must petition each of the three York Rite entities. Currently in South Dakota the Degrees and Orders of York Rite are presented in Vermillion, Sioux Falls, Brookings, Aberdeen, Pierre and Rapid City. For more information about York Rite in South Dakota, go to the South Dakota York Rite website 
www.sdyorkrite.com
. There you can find further contact information for South Dakota Grand Recorders and heads of the York Rite Grand bodies all of whom will be happy to direct you to the proper person. More Light in Masonry can become a way of life.
Order of the Eastern Star in South Dakota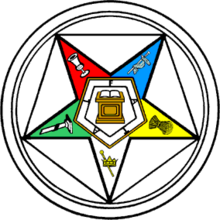 The Order of the Eastern Star is a Masonically-related fraternity of women and men banded together by spiritual values and beliefs which exemplify the noble characteristics of charity, truth and kindness to all mankind. This Fraternity is international and has about one million members worldwide.  It is not a secret organization and not a part of the Masonic Fraternity. The Order is also not a religion and does not practice any religious dogma. Membership eligibility, however, is based on a Masonic affiliation or relationship, and the belief in the existence of a Supreme Being. In this country, the Christian Bible rests upon an altar within the chapter room. In other countries, books of other religious faiths may be used.
The Order is primarily social and charitable in nature. Our members feel a sincere camaraderie and extend respect and a wholesome affection toward their Sisters and Brothers.  Each year, millions of dollars are donated to needy causes such as cancer and heart research as well as scholarship funds for Eastern Star Training Awards for Religious Leadership awards and college scholarships.  The Order also supports youth needs and organizations such as Job's Daughters, DeMolay, and Rainbow for Girls in helping to build exceptional character and personal responsibility. Like the benevolent endeavors of other Masonic Fraternities, the Order supports many local services and charities.
There are five degrees in the Order with one presented at each of the five points of our emblematic Star. Each degree teaches various lessons and gives insight into the attributes of our honored Biblical Heroines, Adah, Ruth, Esther, Martha, and Electa. These beautiful ritualistic ceremonies are designed to enhance our foundations for the conduct we should adapt and portray in our daily lives.
There are 30 local Chapters and 10 Associate Chapters in South Dakota.  The Chapters are individually chartered and operate under their own by-laws as authorized and instituted by the Constitution and Laws of the Grand Chapter of South Dakota.  The Grand Chapter is governed under the Jurisdiction of the General Grand Chapter, headquartered in Washington DC.
For additional information please contact: Karen Steptoe, Grand Secretary, at 
[email protected]
.
You can find more information about the Order of the Eastern Star in South Dakota on our 
website
.
For information on our national organization, the General Grand Chapter of the Order of the Eastern Star, see its 
website
.
South Dakota Lodge of Masonic Research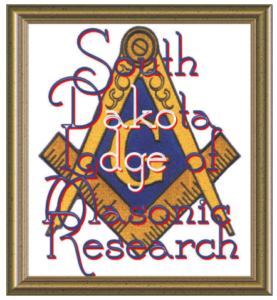 The South Dakota Lodge of Masonic Research was constituted on November 8, 1952, in Mitchell. Membership is open to all Master Masons in good standing. Members meet twice a year, but research and communications is ongoing.
The Lodge of Masonic Research seeks to maintain historical records and to search documents to trace the evolution of Masonry from an operative craft to a speculative brotherhood. Grand Lodges in several states are augmented by Lodges of Masonic Research, which publish documents and share information with other Lodges.
The South Dakota Lodge of Masonic Research publishes three Bulletins annually. The Lodge has also published four volumes of compiled articles of historical papers.
Many papers published in Bulletins have created awareness of Masonry's part in historical and turbulent times. It is interesting to note the papers published in Volume I — 1971; Volume 2 — 1987; Volume 3 — 1990; and Volume 4 — 2001 address notable South Dakotan Masons such as Arthur Mellette, first Governor of South Dakota; Harvey Dunn, noted artist and painter; Gutzum Borglum, sculptor; Merriwether Lewis, explorer; and Gen. William Beadle, politician and educator. Articles also include dissertations of the history and evolution of Masonry, Black Lodges, the Anti-Masonic movement, and the Grand Lodge Library.
We are indebted to dedicated Masons who have devoted hours to researching Freemasonry in the Dakotas.
Some events individuals and project that might warrant articles are: Scotty Philip and dedication of the Masonic cemeteries near Philip and Fort Pierre; Gov. George Mikkelson; the Ft. Sisseton Frontier Lodge; the Masonic Model Student Assistance program; and the South Dakota Child Identification program. Masons are making history yet today. We need to record this history for future generations. Have Black Lodges been chartered in South Dakota? What about the Masonic Veterans Association or the Sojourners?
​